Any service that is going to be run locally on an Environment will most likely be run on Server. These Servers does need an Operating System.
This is a Step-by-Step on how to Install Server 2019 with Desktop Experience on a Virtual Machine.
The Basic installation Starts like all Other OS installs, Plug in the USB or insert the Disc into the DVD ROM. Set the Bios to boot from the installation media and when prompted: Press any key else from CD or DVD then press any key.
The First screen request basic information to assist going forward using the Operating System. Choose your Language, Time and Currency Format and the Keyboard or Input Method. Click Next.
On the Next screen choose Install Now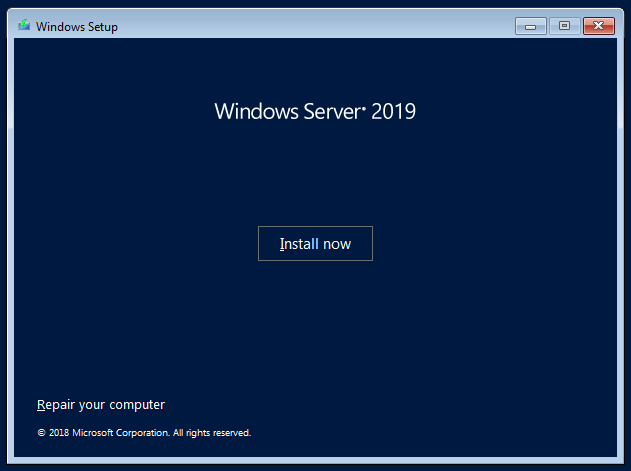 There will multiple options to choose from, the one that will be used most of the time is Windows Server 2019 Standard (Desktop Experience) once selected click next.
The next screen is the License Agreement, Tick the box I accept the license terms and click Next.
This is new install so we wont be choosing the upgrade option, Rather choose Custom: Install Windows Only (Advanced)
Depending on the Drives you have on the Server you will various options to choose from. This is normally planning that happened ahead of time depending on what you are going to install on the server and the Redundancy required. Choose the Drive your Operating System will be running on and Click next. Windows will automatically create the partition for you with the additional partition for the system Drives. Unless you know how you want to set up the partitions the Automatic option is very efficient.
The windows installation will start and go through various Copying, Installing and Restarting at this stage sit back and relax until the next interactive screen appears.
The last screen before you can log onto the server will request a password. This password is for the Local Administrator here use your super secure password that can not be hacked. Click Finish and proceed to the Windows Logon Screen.
Once logged on you can start installing the required Services and Features.
As a rule, when installing a new Server I always go to the Local Server properties and set all the Properties prior to doing anything. This includes
Computer Name: As per your Naming convention
Remote Desktop: Enable
NIC Teaming: If you have multiple NIC ports to Setup
IE Enhanced Security Configuration: Off for Administrators
Time Zone: Set accordingly
Do all Windows Update, then set to Download Update Only
As a bonus a link to the YouTube Video.